This exhibition is mainly devoted to recent paintings by Guillaume Yanga. Abstract, some how a gestural style close to lyrical abstraction but always nourished by symbolise, and others exhibit the painter's latest way, very promising, where he combines laterite with what could be called the Ndop style in a sumptuous rendering.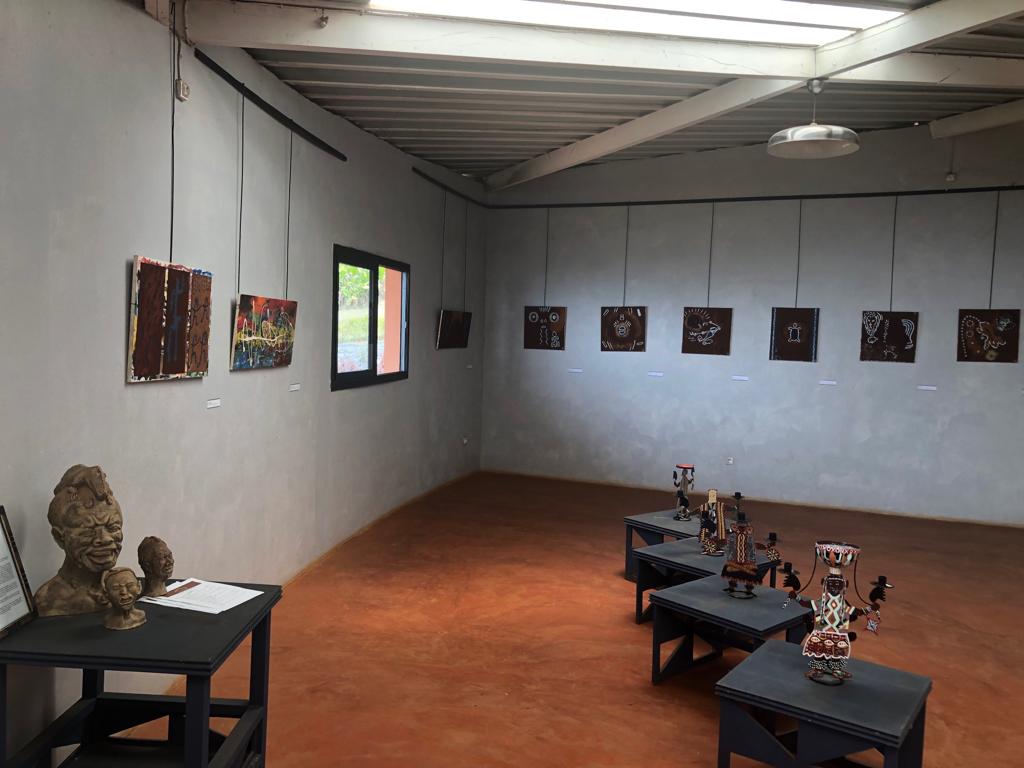 Guillaume Yanga was born in 1990 in Manjo
His vocation as painter manifested itself very early on. Starting in elementary school, he drew on paper using picks and coulures pencils and then withdrew some subsides from this practice by enhancing his classmates' clothing in college with painted patterns.
Guillaume is a perfect exemple of a personality forged by the Jean-Félicien Gacha Foundation. He first frequented it by taking advantage of the « useful holidays » activity, with includes painting workshops that the artist now runs. But it is as a carpenter that he will first be recruited. An outstanding apprentice he is also distinguished by the caricatures of his colleagues and some more elaborate representations that will soon attract the attention of the Foundation's management as well as that of Benjamin Comparé, a Burkinabe traditional practitioner who came to exercise his skills on the site and himself a good draftsman. The two companions support and complement each other, Guillaume learns the bogolan technique, learns to handle natural dyes ad to apply clay as a pigment. However, it is oil that the painter uses for his first canvases on frame, created in a classic style, with a rather naive and deliberately free figuration.
These first achievements attracting him a certain recognition, he will soon be offered to try his hand at the art of fresco painting, where he will use traditional Bamilékés symbols, such as at the Villa Boutanga and the Foundation's staff restaurant. His masterpiece in this vein is the Ndop decoration of the tower of the Zingana Hotel in Bafoussam, designed after twenty-four hours of intense meditation and realized in one month.
Guillaume Yanga is essentially a self-taught artist who does not refer to art history but gives great importance to meditation and above all tot he dream which, according to him, behaves both as muse and his master.